Last year I really got into tracking my rides with Strava. Having weighed in on 1 January at 89kg, I was rather despondent about how flabby I had allowed myself to get, and resolved that I would lose 10kg by the start of 2013. I did, indeed, lose 10kg during 2012, weighing in at 78.85kg on 1 January. I've still got flab (another 5kg would be good) to get rid of, however, so it's full speed ahead on the riding.
Comparing my the results I mention in my first riding or health-related post of 2012 with what Strava figured out, I did a little better than Garmin Connect reported, perhaps that comes down to tracking moving time differently. There's certainly a difference in the calorie count. When I started using Strava I was surprised at the differences, but after checking with a few colleagues who also use power meters and where Garmin's figures were way out but Strava's were within 3-4 percent of the actual meter, I've ditched Garmin Connect entirely.
Here's a snapshot of what I achieved last year: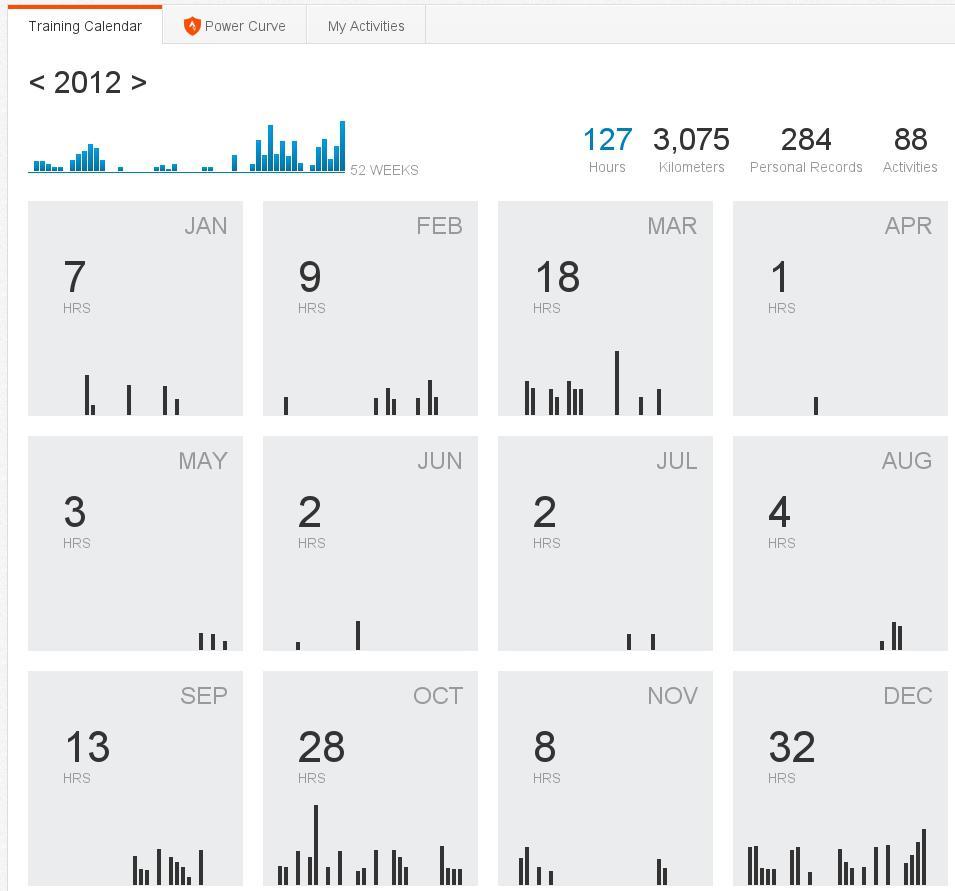 I'm determined to do better than that in 2013. Not only does Coottha not intimidate me any more, I've really enjoyed getting out there and stretching my body. I decided that the regular interval training I'd been doing around Jindalee was not quite good enough. Six laps with not much climbing just didn't cut it; three laps of Mt Ommaney Drive (with a loop around Arrabri Avenue) are much better – I get much greater climbing and a bit more distance in only another 15 minutes, so it's any ideal way to start my day several days a week.
This last week's weather has been a bit of a shock so I didn't get out as much as I wanted to. For all of yesterday's 58km effort it felt like I was riding in thick goop. Still, I'm on target for 100km/week as a baseline, and even allowing for some travel in February and March I should be able to not only do this year's Coottha Challenge in a respectable time but also the Brissie To The Bay 100km ride in June.