One of the features we looked for when we bought our house was an in-ground pool. As the kids have grown up and their confidence has increased, we've spent more and more time using the pool - last swimming season went from September 2014 to April 2015, with almost daily swims that stretched to being 2-3 hours long over the weekends in summer.
One aspect of our pool that we really did not like was the slate tiles around the side. While I'm sure they looked beautiful when installed, by the time we moved in (2007) they were looking tired and starting to shed. By the middle of this year we'd actually lost most of them, leaving some rather ugly concrete. The underwater surface was also starting to loosen, so the Barracuda would frequently pull bits up and leave them in the skimmer box.
We had to get it fixed.
It's been surprisingly difficult to get people to come and quote on a renovation job, and of those who did quote, some of them were more than the cost of a new pool. That didn't seem quite right. Eventually, J found Mark and his team at Sunseeker Pools, who not only quoted within our range, but helped us pick tiles and stone as well. He was also able to start within the next 3 weeks and estimated that it would take about 3 weeks to complete the whole job.
We had been umming and aahing about whether to get the pavers removed and replaced with tiles, thinking that would significantly add to the cost, however Mark's quote included that from the start so we were very happy. During construction we talked with him about our retaining wall, and he offered to build up the edge of the pool with a reinforced besser brick layer. This added about another 10% to the cost, but was very well worth it.
After a week's delay caused by the Brisbane Flu work started in earnest, with emptying the pool. That took about 24 hours, and showed just how bad a pool can get when you leave it unloved for a few months: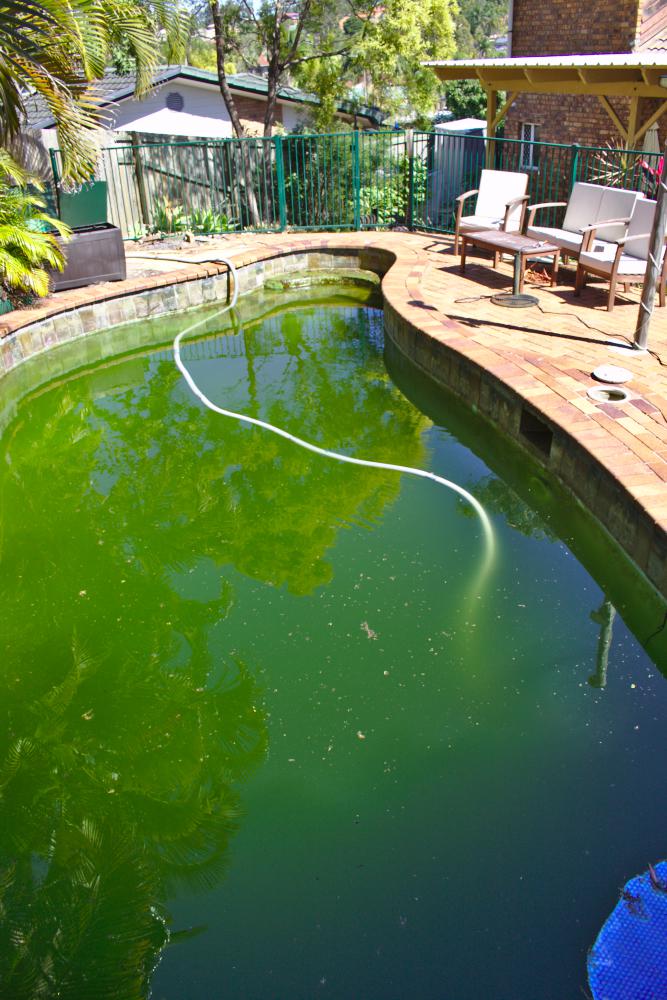 The next stage was to remove the pavers (we're planning on using them for some followup work in the rest of our outdoor area), jackhammer off the slate and the existing pool surface.
A day's worth of putting in formwork was quickly followed by the concrete truck (and pump), which delivered 3 cubic metres in about 45 minutes. That volume needed 3 days to cure, and then the tiles started going on. Mark and his team were very careful and precise in laying and cutting them all out, and then grouted them all at once. We went away to Ballandean (in the heart of Queensland's wine country) for a few days with friends, and when we came back the new pebblecrete had been laid, the waterline tiles and white river stone splashback had been installed and we just needed the acid wash.
The day after we got back, the acid wash subcontractor arrived and got to work - it took about 30 minutes to complete his task, and then we filled the pool. We've got about 40kL, and using town water from the hosepipe it took almost 24 hours to get up to the right level and it was time to put in chemicals. The chemical balance of Brisbane's town water is generally pretty close to what we need for a pool, so the only major concern that our pool shop had was that we add a lot of calcium. Apparently new pools can leach calcium, and it's nigh-on impossible to get back.
And with that, we have a new pool which we've been enjoying almost every day. It's nice to look at from the kitchen bench, too!
Thankyou very, very much to Mark and his team from Sunseeker Pools, and to Wayne and the gang at pool shop.
If you've got a suitable media-enabled browser, here's a video of the pool now - we really love the shimmery sparkly effect.